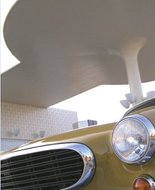 Scope of the Book

This book is the story of the Volvo 1800, which was primarily created to generally increase awareness of Volvo and sales of Volvo cars outside Sweden. The book describes Volvo's history from the start in 1927 until the last Volvo 1800 drove off the assembly line in 1973. However, the focus is on the design phase of the Volvo 1800, the problems of finding a place where the car could be produced, and the problems that production at the start was affected by.
The book describes in detail the 12 model years that were produced between 1961 and 1973. The influence of the Volvo 1800 model on later Volvo cars, such as the Volvo 480, and newer models such as the Volvo C30. The reader can also learn about several examples of the use of the Volvo 1800 in films and commercials, as well as be informed about famous people who have owned a Volvo 1800 over the years. The book contains more than 1,000 photos and illustrations, a significant part of which has not previously been published.
Although the Volvo 1800 was only produced in less than 50,000 cars, there is no doubt that the car model has had a very positive impact on Volvo's sales of cars in the US market in particular, and at the same time has become one of Volvo's most important icons.
Contents of the Book

Foreword by Pelle Petterson
Introduction
Volvo's History in Brief
Volvo 1800 From Start to Finish
Description of Each Model Year
P1800 1961/62
P1800S 1963
1800S 1964
1800S 1965
1800S 1966
1800S 1967
1800S 1968
1800S 1969
1800E 1970
1800E 1971
1800E 1972
1800ES 1972
1800ES 1973
Rims and Hubcaps
Front and Air Intake Grilles
Emblems
The First and Last Volvo 1800
Volvo 1800 Convertible
Volvo 1800 in Film and Advertising
Volvo 1800 Advertising Photos Taken Around the World
Volvo 1800 Famous Owners
Volvo 1800 Successors
Volvo 1800 Accessories
Volvo 1800 as Miniature Model Cars
Volvo 1800 Literature and Information
Volvo 1800 Cars at the End of the Road
Volvo 1800 Specifications
Volvo 1800 Type Plates
Volvo 1800 Color Codes and Upholstery Codes
Volvo 1800 Engines
Volvo 1800 Production Series
List of Sources
Thank You